The organization of the project consists of an administration office, a consultative board and research groups.
Administration office
The administration office is responsible for overseeing communication between the consultative board and research groups. It is also in charge of organizing research projects and establishing a network between research institutions in Japan and in the Middle East to conduct field surveys in the Middle East.
Research groups
The research groups are composed of members who specialize mostly in area studies on the Middle East, and will conduct research on the two topics outlined below (Research Themes) in collaboration with the consultative board.
Consultative board
The consultative board is composed of researchers from institutions in Japan and overseas, with theoretical backgrounds. They will advise the research groups on topics and methods from disciplinary points of view.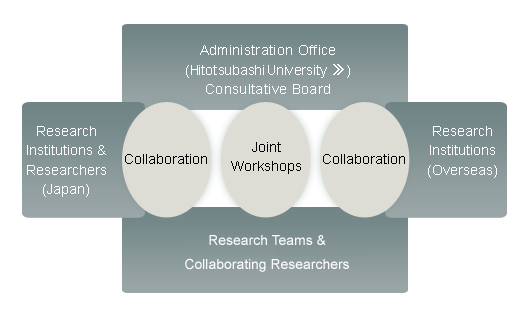 Project Leader
| | |
| --- | --- |
| | KATO Hiroshi, Hitotsubashi University, Graduate School of Economics, Professor, Socio-economic History of Arab Countries |
Consultative Board
KISHIMOTO Mio, University of Tokyo, Graduate School of Humanities and Sociology, Professor, Chinese History
KUROSAKI Takashi, Hitotsubashi University, Institute of Economic Research, Professor, Developing Economy
KOJIMA Hiroshi, National Institute of Population and Social Security Research, Department of International Research and Cooperation, Director, Demography
SAITO Osamu,Hitotsubashi University, Institute of Economic Research, Professor,Historical Demography
SATO Hiroshi, Hitotsubashi University, Graduate School of Economics, Professor, Chinese Economy
TANIGAWA Tatsuo,Action for a Better International Community (ABIC), Japan Foreign Trade Council, Inc., Coordinator
NAKAMURA Yoshitaka,Japan Cooperation Center for the Middle East (JCCME),Managing Director
MIENO Fumiharu, Kobe University, Graduate School of International Cooperation
Studies, Associate Professor, Monetary Theory
YOKOYAMA Jun, Hitotsubashi University, School of Law, Professor, Private
International Law
Research Teams
| | |
| --- | --- |
| | AOYAMA Hiroyuki, Institute of Developing Economies-Japan External Trade Organization (JETRO), Researcher, Modern politics of Syria and Lebanon, Arab Nationalism |
| | IWASAKI Erina, Hitotsubashi University, Graduate School of Economics, Research Fellow, Socioeconomic Studies on Maghreb & Egypt |
| | UEMATSU Mao, Kagawa University, Faculty of Law, Associate Professor, Private International Law |
| | TAKAOKA Yutaka, The Middle East Research Institute of JAPAN, Researcher, Area Study (Syria) |
| | MUTO Koji, Ritsumeikann Asia Pacific University, College of Asia Pacific Management, Professor, Islamic Economics, Middle Eastern Economy |
| | YOSHIMURA Shintaro, Hiroshima University, Graduate School of Integrated Arts and Sciences, Associate Professor, Modern History of Iran, International Relations of the Middle East |
Collaborating Researchers (Japan)
IWASAKI Yoko, Institute of Developing Economies-Japan External Trade Organization (JETRO), Researcher, Iran, Economics
UNO Masaki, Hiroshima City University, Faculty of International Studies, Professor
KASHIWAGI Kenichi, University of Tsukuba, Alliance for Research on North Africa, Research Fellow, Developing Economy, Arab Economy
TAKAKI Keiko, Obirin University, School of International Studies, Professor, Cultural Anthropology, Maghreb Area Studies
HAZAMA Yasushi, Institute of Developing Economies-Japan External Trade Organization (JETRO), Senior Research Fellow, Comparative Politics, Turkish Politics
FUKUDA Sadashi, Institute of Developing Economies-Japan External Trade
Organization (JETRO), Director-General, Political Economy of Middle East
MURAKAMI Kaoru, Institute of Developing Economies-Japan External Trade Organization (JETRO), Senior Research Fellow, Researcher, Turkish Studies, Gender and Family Studies
YANAGIHASHI Hiroyuki, University of Tokyo, Graduate School of Humanities and Sociology, Associate Professor, Islamic Law
Collaborating Researchers (overseas)
| | |
| --- | --- |
| | Yang Guang Vice President of CAMES (China Association of the Middle East Studies) |